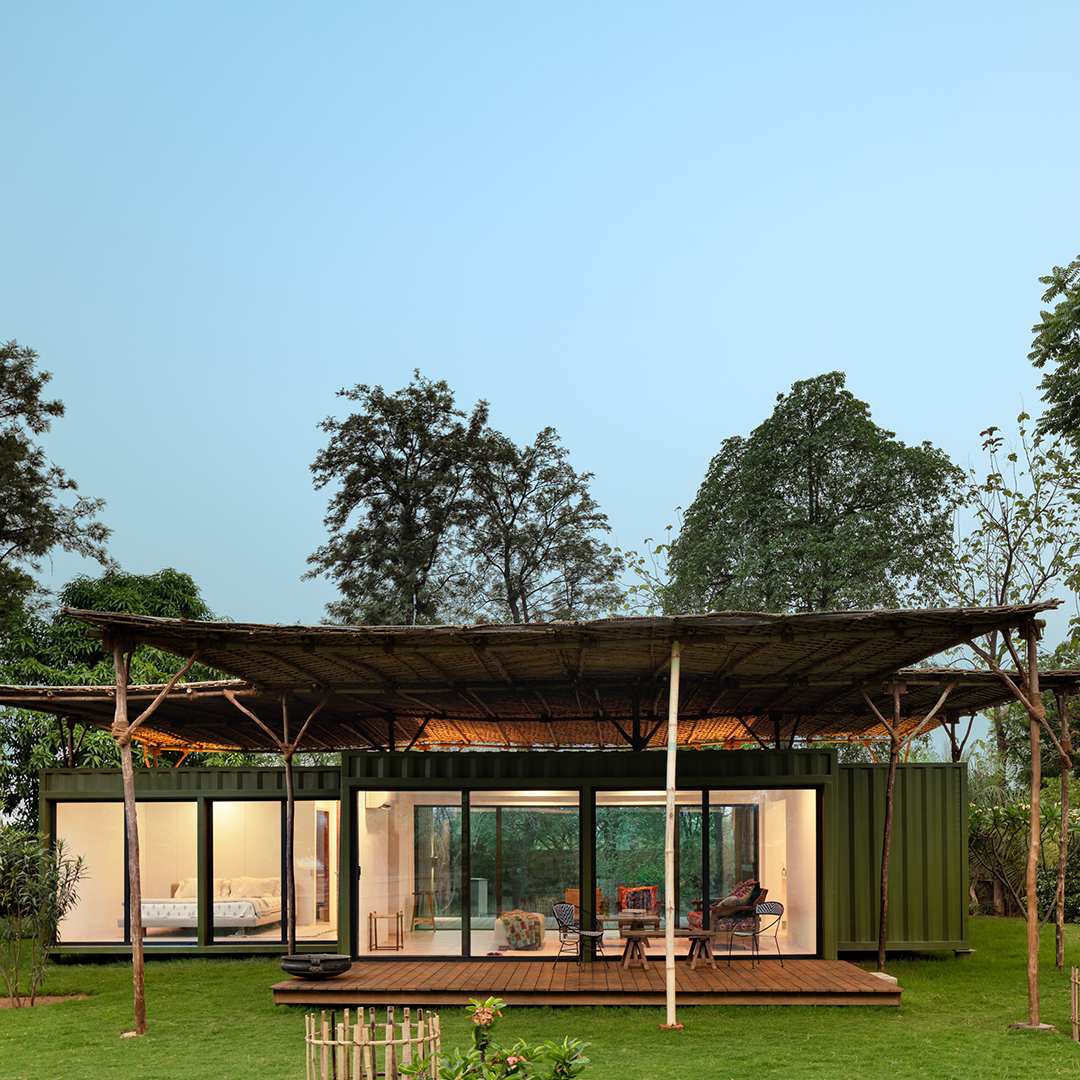 Residential design has experienced a paradigm change in our post-pandemic reality. Weekend homes were born in a quest for developing more intimate connections with nature. While a number of dwellings and cabins have been designed using shipping containers for decades, the pandemic accelerated the need for adaptable and quicker solutions for dwellings. 
Dating back to the 1960s, Banham popularised the idea of shipping containers as "plug-and-play" architecture, recognised for its utilitarian appeal and minimal design. Years later, Phillip Clark designed the first shipping container home in 1987. He even received a patent for his unique strategy of transforming these unfinished steel boxes into habitable spaces. Shipping containers have become synonymous with architecture, gaining popularity each year. To retain their widespread appeal, shipping containers primarily rely on the desirable raw grunginess and the appearance of a cost-effective design solution.
For one of many reasons similar to this – quick turnaround – our clients envisioned The Container House to transform their desire to reside amidst nature. In an attempt to be mindful of resource consumption and ecology in a highly modernised world, this distinctive dwelling redefines consumption in real estate by being made up entirely of shipping containers. The use of containers has been instrumental in expediting the construction process and ensuring the timely completion of this farmhouse. Perpetually in dialogue with the undulating ranges of Aravalli, The Container House reimagines the typology of a farmhouse. The project comprises two independent units, named Champa and Chameli, have been placed on either side of the plot to endow the homeowners with a sense of privacy. 
Chameli is a dual-container pod that joins two 40 X 8 feet containers lengthwise. On the other hand, Champa features a more complex arrangement of five containers, each 20 x 8 feet in size. Chameli and Champa have been placed on either side of the plot to create a sense of privacy for the homeowners. The client and his wife reside in Chameli, while the client's mother lives in Champa, bringing together the coexistence of traditional Indian families. Considering the structure is primarily made of metal, it was essential to stabilise any movement or changes in the building owing to the temperature variation. Therefore, vertical grooves in the joinery between panels aid in controlling thermal expansion. 
An eight-foot wide deck runs across the length of both these units, converting the semi-open portico into a seating area for the homeowners to enjoy the outdoors. While Champa has a deck on both the front and back, the rear deck of Chameli transforms into an open-air shower covered with upcycled wooden planks for privacy. A raised, knit bamboo mat roof covers the container pods and wooden deck area, adding a sense of tactility and rusticity to the structure. The bamboo columns that support this roof are held together by coconut ropes, eliminating the use of nails. 
Harnessing ideas of minimal living and harmonising with nature, the design of container buildings is constantly witnessing a rising demand. Shipping containers play a crucial role in propagating the idea of reducing, reusing and recycling in these times of the climate emergency and biodiversity loss.  
Containers have other benefits besides being readily available; they are sturdy, resistant to mould and termites, flood- and fireproof, and make excellent building materials. Containers, which normally last between 10 and 15 years and range in length from 20 to 30 feet, can endure due to their durable construction. Although getting increasingly popular, dwellings constructed from shipping containers still very much remain a niche interest.